My latest book, The PC and Gadgets Help Desk, is my most ambitious troubleshooting book yet. It shows you
how to:
Back up your Windows computers and devices (tablets, all-in-ones, laptops and desktops)
Back up your Android and iOS smartphones and tablets
Connect your mobile devices and Windows devices to HDTVs and home theater systems
Stop attacks on your devices
Recover lost data...
...and much more. Check it out at
Amazon.com
,
Barnes and Noble.com
, or directly
from the publisher
.
My latest book,
Easy Windows 8.1
, is now available in print and various e-book versions. It offers full-color visual step-by-step instructions for Windows 8.1's new and improved features (travel, search, digital photo shooting and editing, and more) along with instructions designed for both touchscreen and mouse/keyboard users. Grab a free
sample chapter
 at the Que Publishing website, where you can also buy a print copy or watermarked PDF , ePUB, or MOBI versions. Print and Kindle versions are also available at
Amazon.com
(and Amazon.com is offering a sweet $5.00 coupon off the print version right now!). Print and Nook versions are available at
Barnes & Noble
.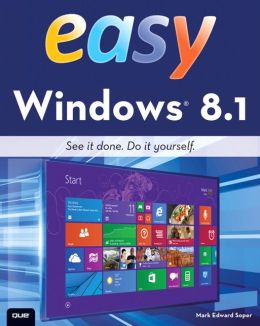 [caption id="attachment_163" align="alignright" width="236"]
By Mark Edward Soper with Sherry Gunter[/caption] How are readers enjoying
Easy Windows 8
? Take a look: From
Bob and Joy
Schwabach ON COMPUTERS
 (Worcester [MA] Telegram]:
"Easy Windows 8," by Mark Edward Soper, $25, is by far the best and easiest of the Windows 8 books we've seen. It's from QuePublishing.com and has screen shots on every page to help step you though.
Amazon.com 
reader reviews
:
 ...Anyone that has Windows 8 on their computer should have a copy of this book. (5-Star review from Sharon Geimer) Would not know what to do with my new computer without this book... (5-start review from Shirley Spencer)
Barnes & Noble
reader reviews
:
... I highly recommend this book for those that are beginners to computers and Windows 8. (5-star review from h3guy) ... I liked the layout & presentation so much I bought another in-store for him (4-star review from Anonymous)
See for yourself with a
sample chapter
.